Bali really is a surf mecca, making it a favorite for a Surf Holiday
There are few, if any, places in the world with so many world class surf breaks concentrated into such a small area.
During the dry season from approximately late March-November, the predominant winds are the easterlies, which make it "off shore" (wind blowing from land to sea which is what we want) on the west side of Bali with perfect surf conditions. This suits breaks like Kuta, Legian, Canggu, Airport Reefs, Bingin, Impossibles, Padang Padang, Uluwatu, Balian and Medewi.
In the wet season from approximately December-March, the winds are predominantly westerlies, which bring the east coast to life at such breaks as Nusa Dua, Serangan, Hyatt Reef, Sanur and Keramas.
Whether the east or west coast, there are world class waves at both, also with options for both beginner and intermediate surfers.
If you are looking for greater consistency and maybe larger waves, the winter storms from the Southern Ocean (where we receive most of our swell) mean that May-September are the best months. And yes, our swell often comes from half a globe away – from all the way down in the southern ocean all the way up to us in near the equator in Bali.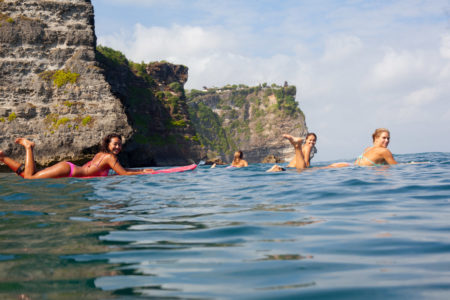 But the great news is, that what ever time of year you decide to come to Bali, you have a great chance of finding good waves.
So if you're thinking about a surf holiday Bali any time is a good time.
Stoked Surf Bali operates all year and our instructors are available to help you get the most from your surf holiday Bali.
We have awesome accommodation close to the beach, restaurants, shops and bars. We can also assist with tour advice and planning for the remainder of your Bali holiday.